Want your personalized horoscope?
Get your own AI Astrologer.
Get clarity on
Love 💞️, Education🎓, Career💼, Health❤️
and much more.
Discover the factors influencing your life with personalized horoscope predictions.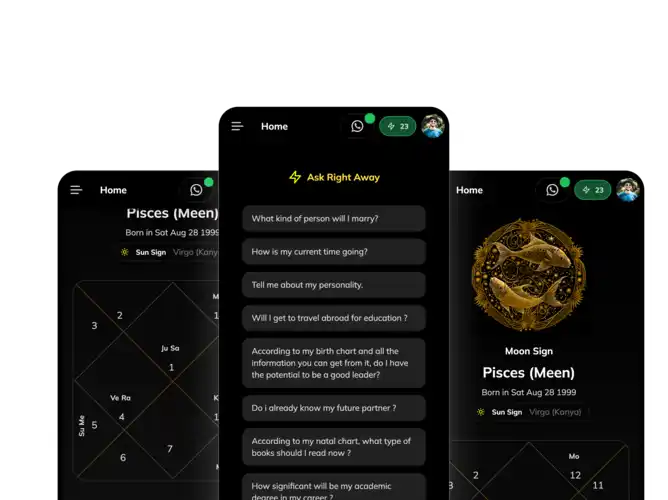 THE MOST ADVANCED AI ASTROLOGY SERVICE
Vedic AstroGPT provides top-tier AI-based Vedic astrology services. Quickly receive answers to your astrological inquiries, ensuring rapid and efficient pre-astrological counseling. Ideal for those searching for "astrologers near me".
User Words
Here are some delightful words from our satisfied customers - the very essence that fuels our passion! 😊

Aayush Raghuvanshi
Student
Accurate analysis about my love life, need for financial stability, my emotional sensitivity, sense of independence and intellectual taste. Answers also gave me my future dasha periods which will be positive for me with detailed analysis of what will be the circumstances in those periods in the near future.

This service was excellent! I would 1000% recommend for people to understand their vedic-astrology-birth-chart and the information is extemely accurate.
Wow! I am mesmerized by the accuracy of dasha analysis.

so accurate

Anurag Bhelsewale
Software Engineer
Fantastic

Rohit Nagarkoti
IT, Data Analyst
it is good
Get your personality analysis
Ask your first question for
FREE!
Starting at
Rs.100 onwards (Inside India)
$1 (Outside India)
Join the thousands using Vedic AstroGPT to get guidance on
Love 💞️, Education🎓, Career💼, Health❤️
and much more.
in
30 seconds
.
Try Now
First question for free
For limited time only
Frequently Asked Questions
Lalitpur 44600, Nepal
+977 9817248064
© 2023. Vedic AstroGPT | Astrology AI. All rights reserved.